4 December
20:00hour
Season 2019/2020
Chamber Hall
BENJAMIN PIANO TRIO
4 December
20:00hour
Season 2019/2020
Chamber Hall
BENJAMIN PIANO TRIO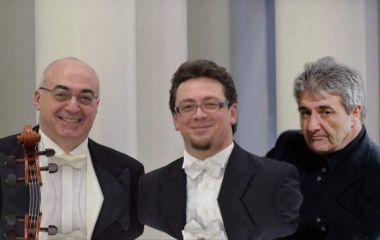 Emir Imerov – violin (Germany)
Alexander Kaganovsky – cello (Switzerland)
Vag Papiank – piano (Izrael)
Programme:
L. van Beethoven: Trio in D major, Op. 70 No. 1 "Ghost"
F. Mendelsohn: Trio in d minor Op. 49 No. 1
The Benjamin Piano Trio
The traditional, extremely zestful Benjamin Piano Trio, named after Emir Imerov's dog Ben, was founded in 2009 by the cellist Alexander Kaganovski and the violinist Emir Imerov. Both artists hold leading positions as members of the Solistes Européens Luxembourg. They also play as top musicians with the Israel Philharmonic Orchestra under Zubin Mehta, the Bern Symphony Orchestra and the Niederrheinische Sinfoniker. The pianist and conductor Vag Papian takes the piano part. He is well-known internationally, too, and accompanies the violinist Maxim Vengerov, amongst others.
In a review of the Philharmonie Luxembourg, the following can be read about the trio: "At the end of an outstanding concert full of musical and emotional intensity, the audience celebrated the Benjamin Piano Trio with standing ovations. The trio mastered the musical demand of the concert brilliantly. Thanks to the quality of their interpretations, they have brought the musical works to new life and have impressed and inspired the audience very deeply. "
In their musical performance the Benjamin Piano Trio always aims to unite the traditions of Eastern and Western Europe. The trio, which is now internationally requested, plays works by Russian composers as well as pieces from the Viennese Classic, Romantic and other epochs. Numerous concert tours took them not only through Germany, but also to France, Austria, Switzerland, Italy, Eastern Europe and Israel. The are regularly invited to internationally renowned festivals such as the Gstaad Menuhin Festival in Switzerland, the Esbjerg International Chamber Music Festival in Denmark, the Ohrid Summer Festival in Macedonia and the Båstad Chamber Music Festival in Sweden.